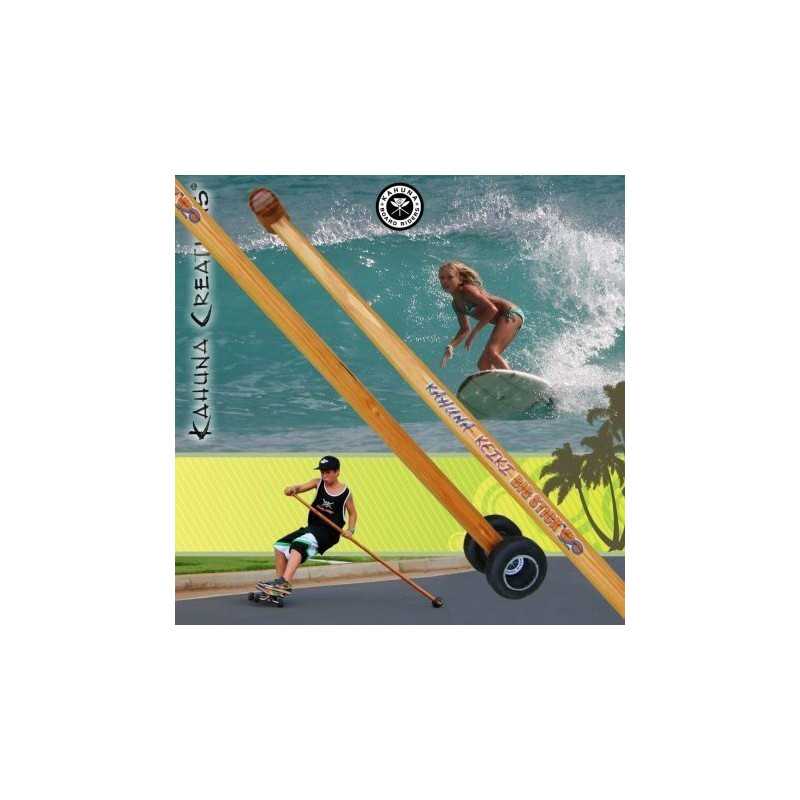  
Kahuna Big Stick Keiki
Beschikbare maten: 1.23m (4') en 1.37m (4'6")
Kahuna Grote stok
Niet alleen zijn Kahuna Big Sticks een geweldige sport voor volwassenen, maar nu ook een ingenieuze manier om kinderen te leren hoe ze mee kunnen doen! Het Hawaiiaanse woord voor kind is "keiki", en Kahuna Creations introduceert de Keiki Big Stick, speciaal ontworpen voor kinderen!
De veiligheid van een kind is de eerste prioriteit, en veel sporten kunnen gevaarlijk zijn voor kinderen, maar nu kunnen kinderen het plezier van longboarden ontdekken met veel minder stress dat ze gewond raken. Kinderen houden van de stabiliteit van het rijden met een grote stok en voelen zich veel meer in controle. Als de kleine keiki's ook meerijden, is longboarden iets leuks dat de hele familie samen kan doen!
De vervangbare Road Grip aan de onderkant van de Kahuna Big Stick is gemaakt van carbon rubber om de beste grip van de weg te halen. De Road Grip is zacht genoeg om een soepele slag mogelijk te maken en is helemaal niet schokkend voor het lichaam. Hij is ook sterk genoeg om een intense rit te doorstaan. Deze contacten kunnen worden losgehaald en gedraaid als er ooit een lekke plek ontstaat. De slijtage van de Road Grip is echter meestal uiterst minimaal, tenzij de rijder voortdurend breekt op steile wegen met de Kahuna Big Stick.
Beschikbare maten:
1.23m (4') en 1.37m (4'6")
Kahuna Big Stick maten:
Om de maat van een Kahuna Big Stick te bepalen, moet het handvat van de stick tussen je kin en de bovenkant van je voorhoofd zitten, terwijl je op een longboard staat.
Voor de meeste longboards wordt de rijder ongeveer 3-4 in of 7,5-10,25 cm groter terwijl hij op het longboard staat
Questions
(0)
No customer questions for the moment.
Your Question has been successfully sent our team. Thanks for question!
Select a row below to filter reviews.