Free shirt from € 150,-

Free Shipping starts at € 75,- (NL/BE/D)

100-day return policy

Free pickup in shop

Worldwide shipping

Free shirt from € 150,-
Get a Free Sickboards T-Shirt if you order for more 150 euro

Free Shipping starts at € 75,- (NL/BE/D)
You get free shipping to Benelux and Germany when you order for more than 75 euro

100-day return policy
You can return your unused product within 100 days (see our policy)
Free pickup in shop
You can swing by our shop to pick up your package (worth the journey)
Worldwide shipping
We offer world wide shipping using UPS, and it is free for orders over 300 euro.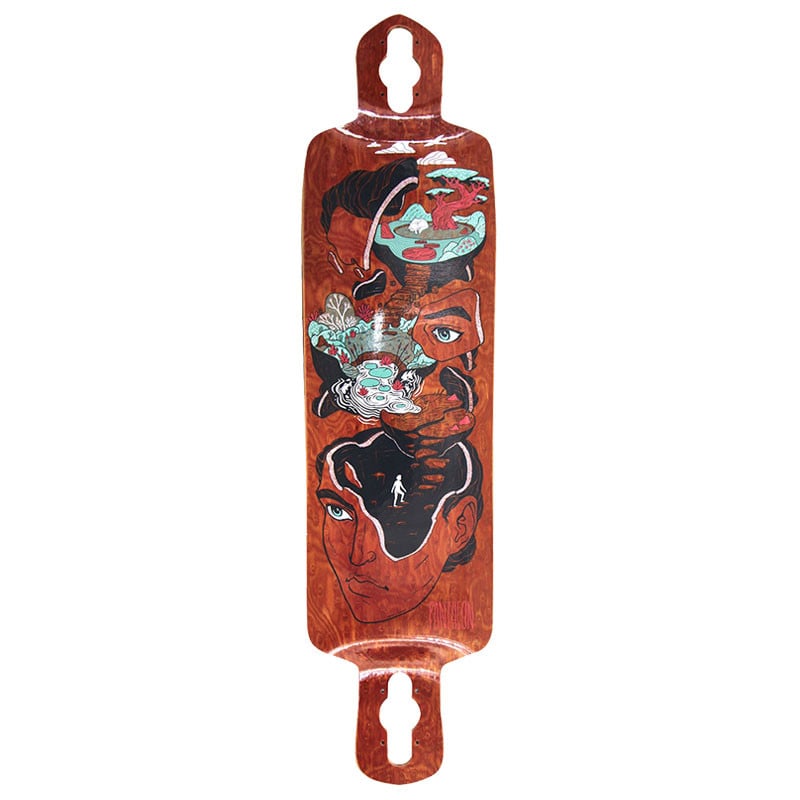  
Pantheon Quest FG Path Graphic 36.5" Longboard Deck

Free shirt from € 150,-
Get a Free Sickboards T-Shirt if you order for more 150 euro

Free Shipping starts at € 75,- (NL/BE/D)
You get free shipping to Benelux and Germany when you order for more than 75 euro

100-day return policy
You can return your unused product within 100 days (see our policy)
Free pickup in shop
You can swing by our shop to pick up your package (worth the journey)
Worldwide shipping
We offer world wide shipping using UPS, and it is free for orders over 300 euro.
7-ply Canadian rock maple + 2x triaxial fiberglass construction
Directional design with mild taper
Crescent Drops – stiff and strong with no weak spots
36.5-inch Length
28.5-inch Wheelbase
9.25-inch Width
The Pantheon Quest is the little sister to the Nexus deck. While they are both designed out of the same mold, the boards have been designed to accentuate different features of the mold to highlight different riding styles. Essentially, the Quest is a longer version of the Trip, but it has a bit more concave for more board feel, and the concave increase reduces the flex a little bit over the 2-inch longer platform (when compared to the Trip). If you are looking for a pure pusher but want more space than the Trip offers, the Quest is an excellent choice.
Deciding between the Trip and Quest shouldn't be too tough, as the amount of foot platform on the Quest is longer, but it comes at the expense of 4 total inches in length. If you want the smaller, more agile board, get the Trip, and if you want the stability of a longer platform or just more space to spread out, get the Quest! But deciding between the Nexus and the Quest may be a little tougher, and this essentially comes down the purpose. The Quest is designed to fit with 150mm trucks and offset wheels, and when you combine a large wheel like the Speed Vent, the outside of the wheels line up perfectly with the 9.25-inch wide deck–just like the Trip! It's a slim, ergonomic pusher design that makes sense and performs at a super high level.
The Nexus, on the other hand, is designed to work with 165mm trucks and offset wheels. And while the Quest is designed to flex under your push, the Nexus is not. So the question of intent is what we are evaluating. While the Quest is stable at speed, the flex will provide less control when in turns at higher speeds. If you plan to ride a lot of hills, get the Nexus, and if you want a solid board for the flats and straight ups and downs on bike paths, for example, get the Quest.
What's New on Our Updated Quest Longboard
· Lower Platform! – Features a big 1-inch crescent drop with a quarter in rocker in the platform! It is lower for easier distance pushing and more confidence inspiring sliding
· More Durable Construction – We created this deck with 7 plies of maple and 2 layers of triaxial fiberglass to increase rigidity along the length and across the deck. Additionally, this deck will be more resistant to warping and neck failure. 
· More Wheel Clearance! – We've been honing this over time to get it just right. You can now run thinner trucks with larger wheels on the Quest when compares to previous models
New Maple and Fiberglass Construction!
The 2020 Quest has been revamped with an entirely new construction. We tested various construction options over the course of a year, and after riding many miles on several different potential builds, we decided on what we felt was the best possible construction that combines performance, aesthetic, and cost effectiveness. Whereas many fiberglass builds will put the glass on the outermost layer, we put the fiberglass underneath the top and bottom layers of maple. After years of experience with various fiberglass boards, not only do I believe the wood to be of superior aesthetic, but having it on the outside will protect your hands from fiberglass splinters (which are HORRIBLE, by the way) as the deck wears down and takes scrapes on curbs or large speed bumps. We have had extreme success with these boards and are excited to offer the traditional wood aesthetic with the performance benefits of composite fiberglass. Topped off with included 80-grit laser cut griptape, and this deck is ready to crush all the miles right out of the box!
Best Setups for the 2020 Quest
The Quest has been redesigned for more versatility in setup selection than ever. The wheel clearance has been enhanced from previous models, being cut JUST thin enough to comfortably fit 150mm Paris V3 trucks and 85mm Seismic Speed Vents. The overall setup, in this sense, is extremely similar to our Double Drop Trip longboard deck, as both decks are 9.25-inches wide and are designed and truly optimized with this wheel and truck combo, which matches the width of the rail perfectly and helps riders keep from kicking the wheels. We also offer this deck with 165mm Paris trucks and 85mm Orangatang Caguamas, which are wider and grippier and will make for an excellent carving setup that also feels amazing to push!
Overall, we recommend these two setups over any other, and they are the only setups we offer here on the Pantheon website. The large wheels and slim setups will roll over anything and provide for an excellent commute and distance skating experience. Expect to hear great things from other riders about this board, and soon you may find yourself raving to your friends, too!
Questions
(0)
No customer questions for the moment.
Your Question has been successfully sent our team. Thanks for question!
Select a row below to filter reviews.