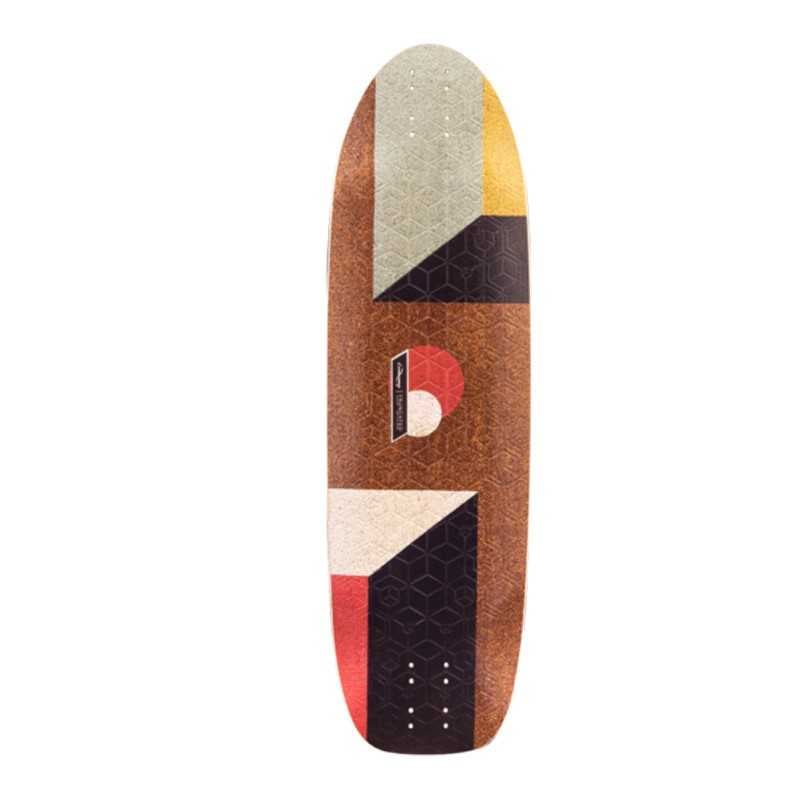  
Loaded Truncated Tesseract Longboard Deck
Length: 83.8 cm/33"
Our Description:
The Truncated Tesseract is a shorter version of the regular Tesseract. Having taken off the nose and tail and gone towards a more traditional topmount this is a more DH and Freeride oriented deck than the full size. 
Loaded Truncated Tesseract - Deck Only
The Tesseract family has expanded to cater to your unique quest for four-wheeled illumination. The Truncated Tesseract integrates rocker, wheel well flares, W concave, and multiple wheelbase options into a lightweight package designed for big mountain roads, high speeds, and snappy slides. It eschews superfluous appendages in favor of a more traditional and race-inspired shape while retaining all the performance-driven ergonomics and construction of its precursor. Escape the three-dimensional confines of contemporary skateboarding and embrace the fourth dimension.


ROCKER
Symmetrical rocker throughout the deck cups the outer edges of your feet and creates a subtle locked-in sensation, helping you stay firmly planted in slides and facilitating confident and natural movement up and down the length of the board. Additionally, rocker slightly lowers your center of gravity for enhanced stability.

WHEEL WELL FLARES
Flared wheel wells increase wheel clearance and also create surface transitions that provide lateral and longitudinal support for your feet, both inside the trucks and on the kicktail. These flares promote board awareness and keep your feet locked into a compound contoured pocket while sliding, cornering, and tucking.

W CONCAVE
The Tesseract family features an intuitive W concave to enhance rider control in all toeside maneuvers. The central hump is tall yet wide, providing strong lateral support near the transitions without compromising arch comfort. The W concave follows a mellow elliptical shape and fades gradually in amplitude approaching the trucks, disappearing 3/4" behind the innermost mounting holes. This design allows the inside edges of your feet to nestle up against the W (for toeside slides) while also allowing the outside of your foot to rest in a more radial dish just behind the flared wheel wells (for comfort while tucking on long downhill runs). Progressive yet mild rail concave provides optimal edge control without sacrificing comfort.

DIRECTIONAL SHAPE
The Truncated Tesseract has gone through autotomy, dropping appendages in favor of a more traditional and race-inspired shape while retaining all the performance-driven ergonomics and construction of its precursor. The board retains maximum width all the way back to the bolts for high cornering leverage and security during slides. The nose tapers gently to more effectively accommodate the front foot in a forward-facing speed tuck and is unobtrusive while drafting and riding in tight packs. It's also pointier.

VARIABLE WHEELBASE
24.5" and 26" wheelbase options allow you to fine tune your setup based on your riding style and specific truck geometry. Move your axles in for quicker pop, increased agility, higher traction, and lower swing weight; move them out for greater stability and more lean.
Length: 83.8 cm/33"
Questions
(0)
No customer questions for the moment.
Your Question has been successfully sent our team. Thanks for question!
Select a row below to filter reviews.