Maglietta gratis > € 150,-

Parcheggio gratuito

Spedizione gratuita a partire da € 150,-

Diritto di recesso di 100 giorni

Spedizioni in tutto il mondo

Maglietta gratis > € 150,-
Ricevi una maglietta per il malato gratis se ordini per più di 150 euro

Parcheggio gratuito
Disponiamo di un parcheggio proprio davanti alla porta

Spedizione gratuita a partire da € 150,-
Si ottiene la spedizione gratuita in Benelux e Germania quando si ordina per più di 100 euro , Resto d'Europa da 200,-

Diritto di recesso di 100 giorni
È possibile restituire il prodotto non utilizzato entro 100 giorni (vedi la nostra politica)
Spedizioni in tutto il mondo
Spedizione in tutto il mondo, gratuita per ordini superiori a 300 euro (Asia 600 euro).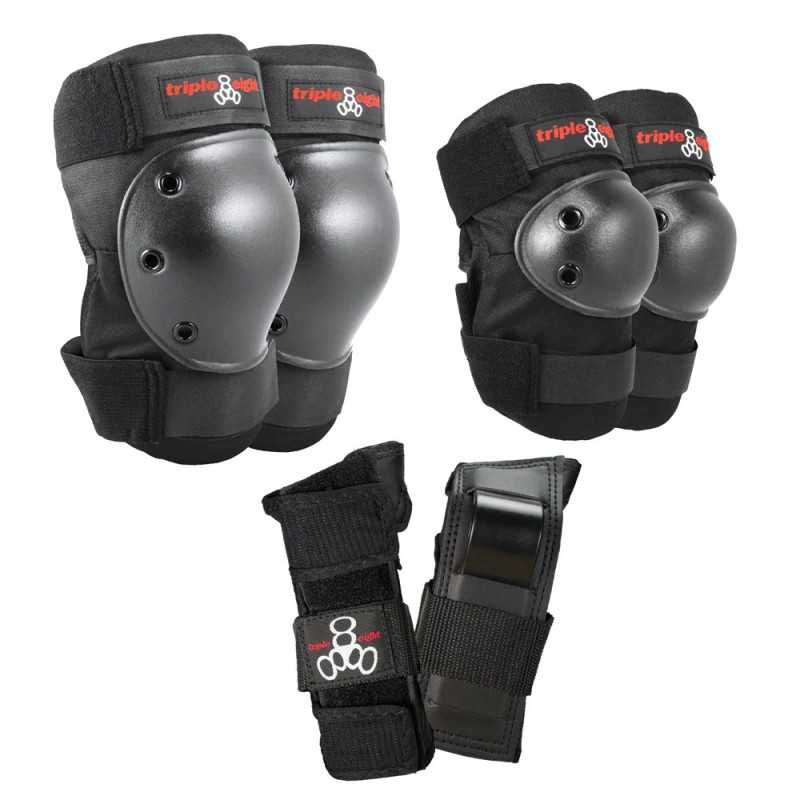  
Triple Eight Saver Series Pads 3-Pack
Protecting your wrists, knees and elbows is now more convenient and affordable than ever. Our Saver Series 3-Pack Box comes with Wristsavers, Kneesavers and Elbowsavers - everything you need to keep you protected below the head.
Set Includes: 
1x Wristsavers
1x Elbowsavers 
1x Kneesavers 

Maglietta gratis > € 150,-
Ricevi una maglietta per il malato gratis se ordini per più di 150 euro

Parcheggio gratuito
Disponiamo di un parcheggio proprio davanti alla porta

Spedizione gratuita a partire da € 150,-
Si ottiene la spedizione gratuita in Benelux e Germania quando si ordina per più di 100 euro , Resto d'Europa da 200,-

Diritto di recesso di 100 giorni
È possibile restituire il prodotto non utilizzato entro 100 giorni (vedi la nostra politica)
Spedizioni in tutto il mondo
Spedizione in tutto il mondo, gratuita per ordini superiori a 300 euro (Asia 600 euro).
Features 
Wristsaver:
- Tough, 4-way stretch nylon mesh provides a snug fit.
- High-density, impact-resistant molded ABS splints on front and back for support.
- Shock absorbing EVA foam secured between support splints and wrist for cushioning.
Knee/Elbowsaver:

- Lightweight, shock absorbing, ventilated EVA foam provides cool air flow and limits perspiration.
- Ergonomically designed for comfort.
- Wide, reinforced elastic straps ensure a secure fit.

Sizing: 
To ensure the Wristsaver fits perfectly, measure hand circumference at the knuckles and match to the sizes listed below:
JR: 6.0 – 7.0 in
XS: 6.5 - 7.5 in
S: 7.0 – 8.0 in
M: 8.0 – 9.0 in
L: 9.0 – 10.0 in
Potrebbe anche piacerti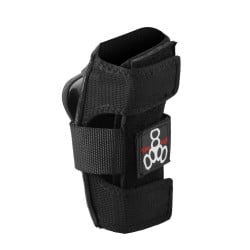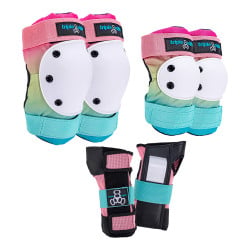 Domanda
(2)
Da
Hector
|
2021-02-23 21:26:57
Hello,
My 12 year old son is interested in this TRIPLE EIGHT SAVER SERIES 3-PACK. He is about 1,49 meters in height. What size would he be? Junior? Small?
Thank you.
Da
Judith
|
2021-02-10 13:26:21
Goedemiddag,

Ik wil graag de TRIPLE EIGHT SAVER SERIES 3-PACK kopen. Ik weet alleen niet welke maat ik zou moeten. Er staat geen maattabel bij. Ik vind het ook een beetje onduidelijk of dit voor kinderen of voor tieners/volwassenen bedoeld is. Dus mijn vraag is, is dit bedoeld voor kinderen?
La tua domanda è stata inviata con successo il nostro team. Grazie per la domanda!
Riepilogo
5
(3 Recensioni)
Seleziona un punteggio per filtrare le recensioni.