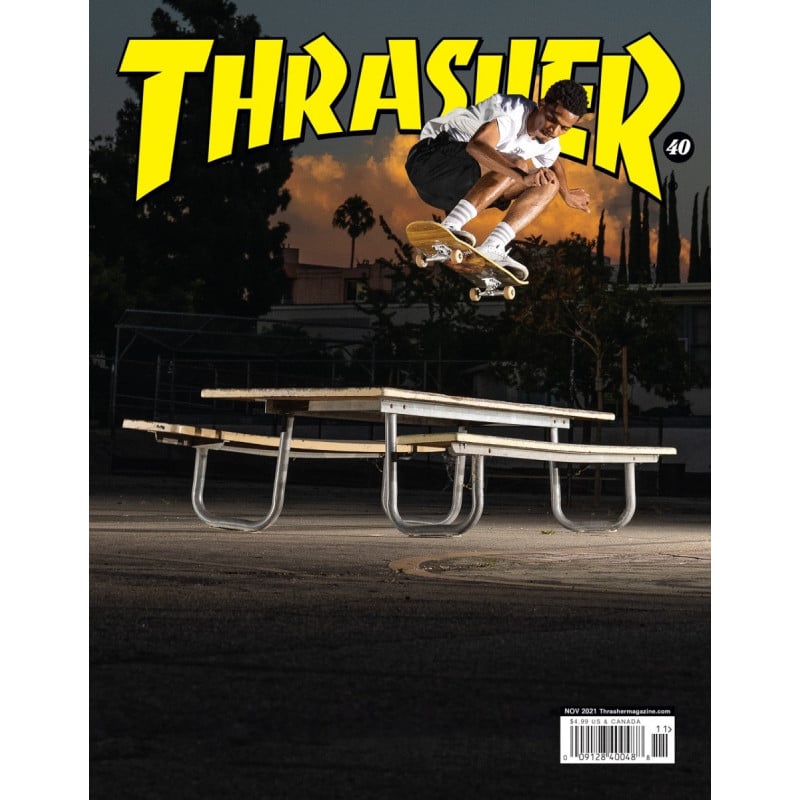  
Thrasher Magazine
Thrasher Magazines. Read the latest and get inspired! Click on the covers to choose and collect all issues! 
Samarria Brevard kicks off 2022 with a Kilty McBagpipe too sick to go anywhere but the cover of the Bible. Dig into the issue and we've got Blubba serial attacker Mark Suciu puttin' his quick feet to the test for the Contents spread. After that, we're takin' a trip to the shop with Sieben, showin' you how to stay kook free with your grip game. Then we get one of the most heartfelt pieces we've seen in a minute with Brianna Delaney who opens up about being a transgender skater, inspired by Arin, Leo Cher, Marbie and more. Skateboarding just keeps getting better.
Next we meet up with DC and The Mafia's Masaki Hongo as he fucks up SD on the Lunatic Fringe tip. Students of comedy rejoice, we got the always-hilarious WKNDer Grant Yansura on record for People I've Known. His stories of double dating with Heath, suiting up with Matt Field and striking out Guy Mariano are pure gold. Then we ride through the Rust Belt with Manderson, Cromer and Cernicky for a Cons X Krooked collab trip. Continuing the crust quest, the Carhartt WIP squad keeps it OG and tears through their home in the EU with Eetu, Jacopo, Tognelli and more for its first vid in over a decade. The illustrious Kevin "Spanky" Long knocks it out of the park with 5 Greats.
Wanna know how to get on Baker? Read up! Heavy Heads lineup this month—madman Martino Cattaneo, Palace's Heitor Da Silva and Illinois boy Nick Mathews. These three alone are worth the cover price.
Keep digging 'cause we got a Photo Feature you won't wanna miss with (more) Suciu, TVV, Dilo and some double pagers that'll look good on your wall with a little scotch tape. For our final interview of the issue we get the former Scrambler and current Toy Machine pro Myles Willard on the line to discuss moving from Maryland to Long Beach, skating with his girlfriend and a teary-eyed board surprise. It's Spotify wrap-up season, so of course we got some list-worthy Zounds to keep you stoked with Tom Delonge, Big Daddy Kane, Moon Hooch and skateable songs from Devendra Banhart and Noah Georgeson.
As always, you're a kook if you miss a mag, but that goes double for this one. Hit up your shop now!
Domanda
(0)
Non ci sono domande dei clienti per il momento.
La tua domanda è stata inviata con successo il nostro team. Grazie per la domanda!
Riepilogo
0
(0 Recensioni)
Seleziona un punteggio per filtrare le recensioni.