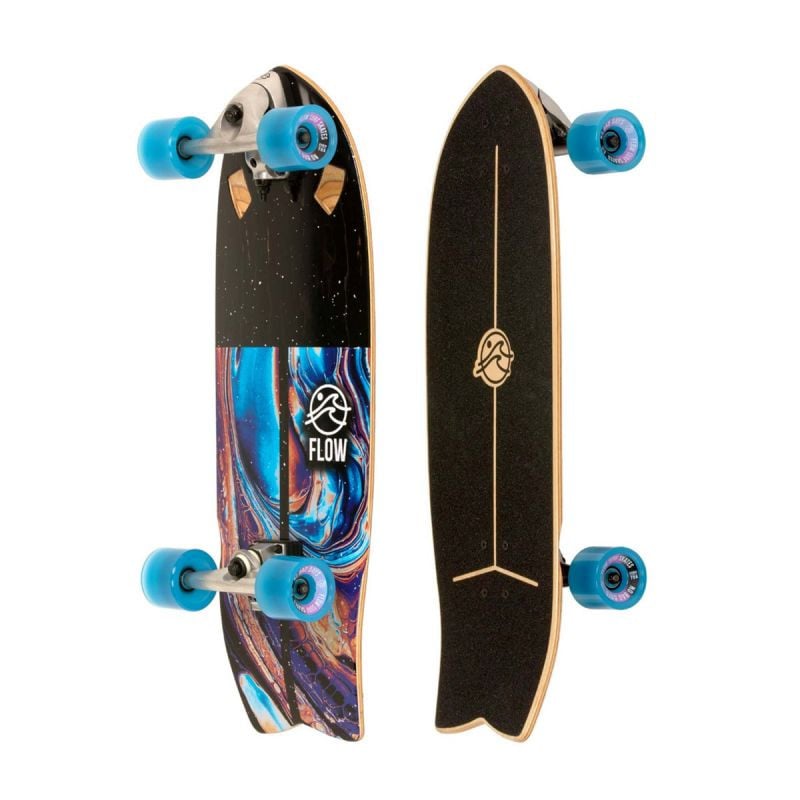  
Flow Nemo 29" Surfskate Complete
Trucks: Flow Surf Skate
Roues: 69mm 78a
Roulements: Abec 5.
Surf skate experience: inspired by the sea but made for the city! Flow Surf Skates Bring the experience of surfing to sidewalks and streets. Surf skates are the best of both surfing and skating!
Concrete surfing: practice your surfing manoeuvres on flat days or simply go skate around town for the fun of it. Flow Surf Skates are perfect for enjoying the paved waves of any urban landscape.
Flow tech: the flow surf skate truck was developed to emulate the feeling of riding a surfboard. The unique design utilizes an internal spring to provide snappy, fluid carving and smooth pumping.
Customizable ride: the truck spring tension is adjustable to suit rider size and preference, making flow well suited to riders of all ages and abilities. Tighten it or loosen it to Perfect your ride!
Specs
Length: 73.7 cm / 29"
Width: 25.4 cm / 10"
Wheelbase: 41.3 cm / 16.25".
Construction: 7-Ply North American Maple
Setup
Trucks: Flow Surf Skate
Wheels: 69mm 78a
Bearings: Abec 5
Question
(0)
Pas de questions pour le moment.
Votre question a été envoyée avec succès notre équipe. Merci pour la question!
Résumé
0
(0 Avis des clients)
Sélectionnez une ligne ci-dessous pour filtrer les avis.