Maglietta gratis > € 150,-

Spedizione gratuita a partire da € 150,-

Diritto di recesso di 100 giorni

Ritiro gratuito in negozio

Spedizioni in tutto il mondo

Maglietta gratis > € 150,-
Ricevi una maglietta per il malato gratis se ordini per più di 150 euro

Spedizione gratuita a partire da € 150,-
Si ottiene la spedizione gratuita in Benelux e Germania quando si ordina per più di 100 euro , Resto d'Europa da 200,-

Diritto di recesso di 100 giorni
È possibile restituire il prodotto non utilizzato entro 100 giorni (vedi la nostra politica)
Ritiro gratuito in negozio
Potete passare dal nostro negozio per ritirare gratuitamente il vostro pacchetto (vale il viaggio)
Spedizioni in tutto il mondo
Offriamo la spedizione in tutto il mondo con UPS, ed è gratuita per ordini superiori a 300 euro.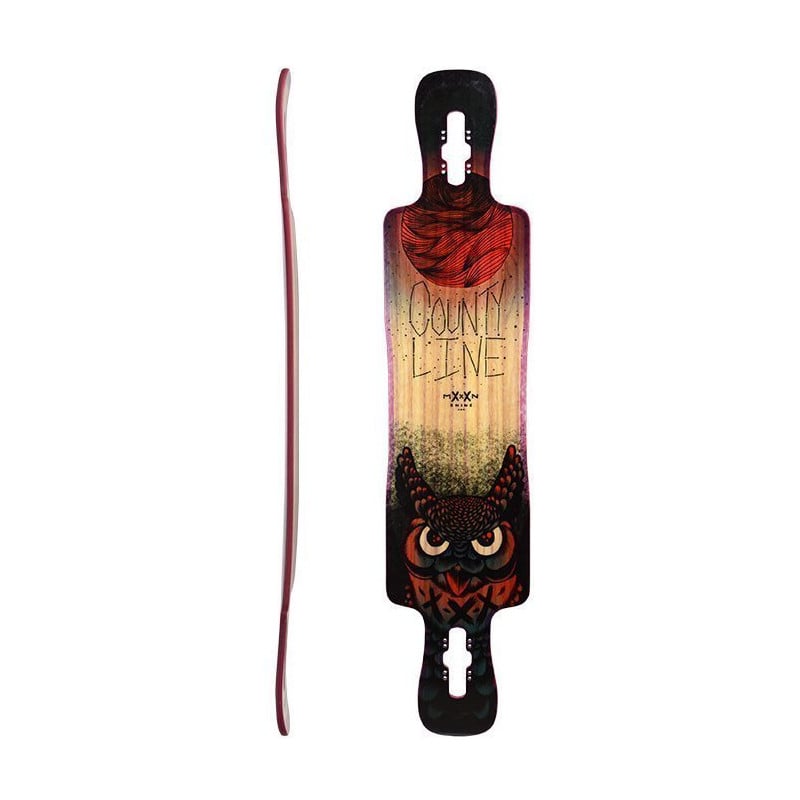  
Moonshine County Line Soft Red/Natural/BlackLongboard Deck
Lunghezza: 111.1cm / 43.75"
Larghezza: 24.1cm / 9.5"

Maglietta gratis > € 150,-
Ricevi una maglietta per il malato gratis se ordini per più di 150 euro

Spedizione gratuita a partire da € 150,-
Si ottiene la spedizione gratuita in Benelux e Germania quando si ordina per più di 100 euro , Resto d'Europa da 200,-

Diritto di recesso di 100 giorni
È possibile restituire il prodotto non utilizzato entro 100 giorni (vedi la nostra politica)
Ritiro gratuito in negozio
Potete passare dal nostro negozio per ritirare gratuitamente il vostro pacchetto (vale il viaggio)
Spedizioni in tutto il mondo
Offriamo la spedizione in tutto il mondo con UPS, ed è gratuita per ordini superiori a 300 euro.
The County Line is a drop through carver, made for multiple riding styles and ample comfort for your longest session. Our drop-through truck mounts and wide platform with extended tip/tail kicks provides greater edge control, foot placement options and balance. The urethane truck mount provides vibration dampening in all riding conditions. This cambered deck with subtle concave features a soft flex pattern perfect for riders under 140 lbs., or riders that prefer a more flexible ride. 
With Moonshine MFG you get: 
• Waterproof deck sealed from the elements 
• Light, strong vertically laminated wood construction 
• No delam, no warping, no twisting 
• No bullshit
• Impact resistant urethane rails- fear no curb 
• Precision machined truck mounts 
Specs
Length: 111.1 cm / 43.75"
Width: 24.1 cm / 9.5"
Wheelbase: 77.5 cm - 79.4 cm / 30.5" - 31.3".
Construction: Vertically Laminated Wood And Urethane.
Gripped: No.
Domanda
(0)
Non ci sono domande dei clienti per il momento.
La tua domanda è stata inviata con successo il nostro team. Grazie per la domanda!
Riepilogo
0
(0 Recensioni)
Seleziona un punteggio per filtrare le recensioni.