Maglietta gratis > € 150,-

Spedizione gratuita a partire da € 150,-

Diritto di recesso di 100 giorni

Ritiro gratuito in negozio

Spedizioni in tutto il mondo

Maglietta gratis > € 150,-
Ricevi una maglietta per il malato gratis se ordini per più di 150 euro

Spedizione gratuita a partire da € 150,-
Si ottiene la spedizione gratuita in Benelux e Germania quando si ordina per più di 100 euro , Resto d'Europa da 200,-

Diritto di recesso di 100 giorni
È possibile restituire il prodotto non utilizzato entro 100 giorni (vedi la nostra politica)
Ritiro gratuito in negozio
Potete passare dal nostro negozio per ritirare gratuitamente il vostro pacchetto (vale il viaggio)
Spedizioni in tutto il mondo
Offriamo la spedizione in tutto il mondo con UPS, ed è gratuita per ordini superiori a 300 euro.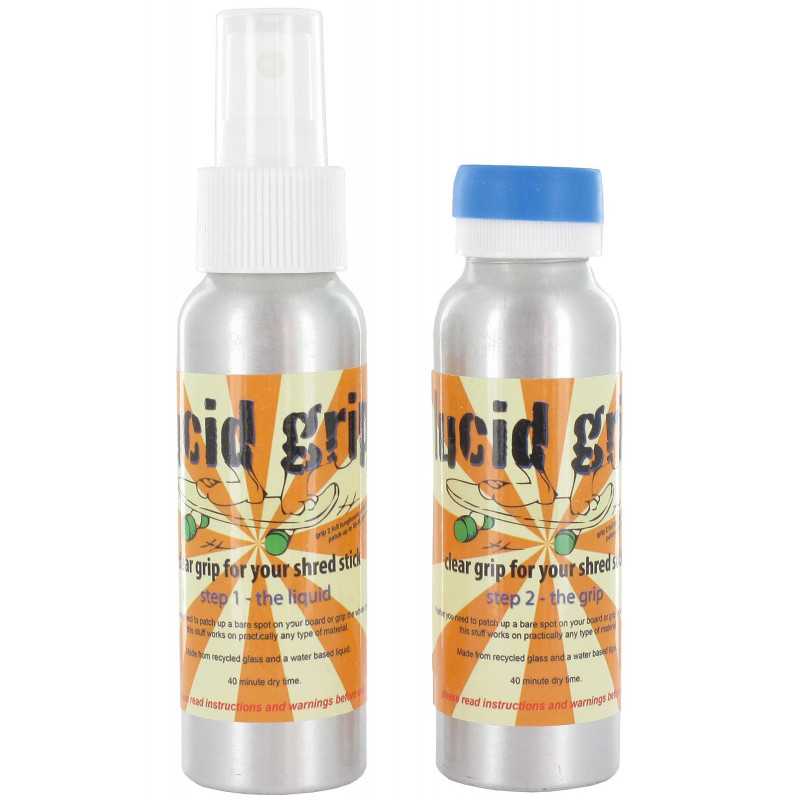  
Lucid Grip clear grip for your shred stick

Maglietta gratis > € 150,-
Ricevi una maglietta per il malato gratis se ordini per più di 150 euro

Spedizione gratuita a partire da € 150,-
Si ottiene la spedizione gratuita in Benelux e Germania quando si ordina per più di 100 euro , Resto d'Europa da 200,-

Diritto di recesso di 100 giorni
È possibile restituire il prodotto non utilizzato entro 100 giorni (vedi la nostra politica)
Ritiro gratuito in negozio
Potete passare dal nostro negozio per ritirare gratuitamente il vostro pacchetto (vale il viaggio)
Spedizioni in tutto il mondo
Offriamo la spedizione in tutto il mondo con UPS, ed è gratuita per ordini superiori a 300 euro.
Lucid Grip "clear grip for your shred stick"
Lucid Grip is an extremely transparent gripping product designed for application on skateboard decks as well as on many other materials that need a form of non-slip surface.
This two-part process is very easy to use and can be applied to many surfaces including wood, concrete, plastics, and most metals.
Once appliec and proper dry time has passed, this grip will last as long if not longer than most other producst used for abrasively gripped surfaces.
so, whtere you need to patch up a few bare spots or grip a whole new deck, Lucid works well on all styles of skateboards including pre-gripped surfaces. Dry time is approximately 40 minutes with ideal conditions of 15-38 degrees Celcius in well ventilated areas.
Good for about 3 boards.
Standard: Used for carving, cruising, and mellow rides. A rider can also ride barefoot with this grip without tearing up the feet.
Medium: Medium is a great option for those riders that are doing more advanced tricks and for riders that are doing some aggressive speed carving and sliding.
Heavy: Used more for those aggressive riders; downhill speed riders and heavy sliding.
Domanda
(0)
Non ci sono domande dei clienti per il momento.
La tua domanda è stata inviata con successo il nostro team. Grazie per la domanda!
Riepilogo
4.5
(4 Recensioni)
Seleziona un punteggio per filtrare le recensioni.