Maglietta gratis > € 150,-

Spedizione gratuita a partire da € 150,-

Diritto di recesso di 100 giorni

Ritiro gratuito in negozio

Spedizioni in tutto il mondo

Maglietta gratis > € 150,-
Ricevi una maglietta per il malato gratis se ordini per più di 150 euro

Spedizione gratuita a partire da € 150,-
Si ottiene la spedizione gratuita in Benelux e Germania quando si ordina per più di 100 euro , Resto d'Europa da 200,-

Diritto di recesso di 100 giorni
È possibile restituire il prodotto non utilizzato entro 100 giorni (vedi la nostra politica)
Ritiro gratuito in negozio
Potete passare dal nostro negozio per ritirare gratuitamente il vostro pacchetto (vale il viaggio)
Spedizioni in tutto il mondo
Offriamo la spedizione in tutto il mondo con UPS, ed è gratuita per ordini superiori a 300 euro.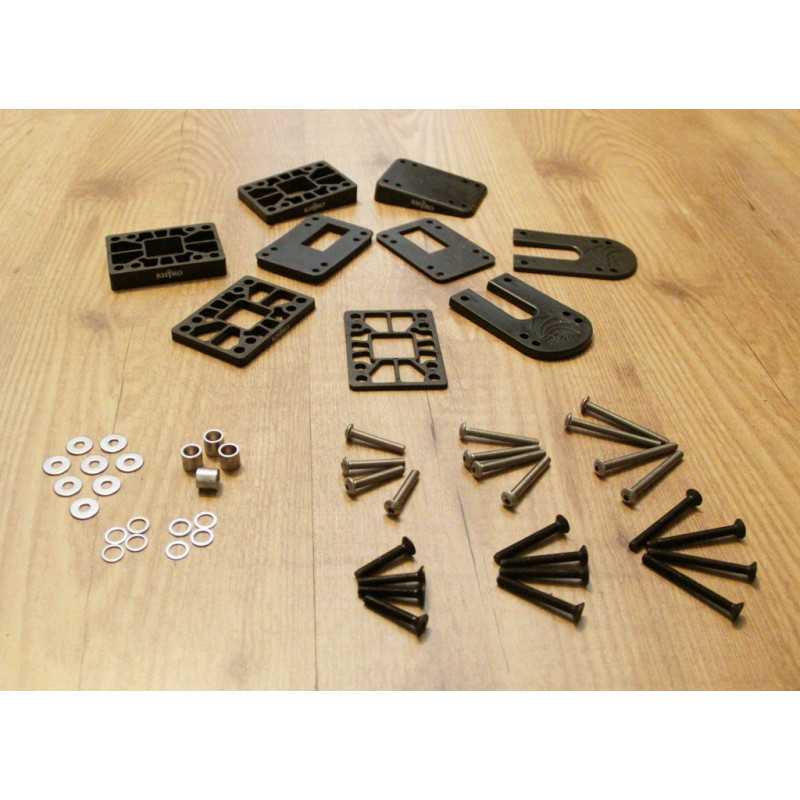  
Custom Setup - assembly including hardware
Hardware (spacer, nuts and bolts, risers) and assembly.
Only available when buying at least Trucks and a board.

Maglietta gratis > € 150,-
Ricevi una maglietta per il malato gratis se ordini per più di 150 euro

Spedizione gratuita a partire da € 150,-
Si ottiene la spedizione gratuita in Benelux e Germania quando si ordina per più di 100 euro , Resto d'Europa da 200,-

Diritto di recesso di 100 giorni
È possibile restituire il prodotto non utilizzato entro 100 giorni (vedi la nostra politica)
Ritiro gratuito in negozio
Potete passare dal nostro negozio per ritirare gratuitamente il vostro pacchetto (vale il viaggio)
Spedizioni in tutto il mondo
Offriamo la spedizione in tutto il mondo con UPS, ed è gratuita per ordini superiori a 300 euro.
Do you want us to assemble your board so it's ready to roll when you receive it"
Than choose this option, which includes assembly, nuts, bolts, washers, spacers. If your board needs risers, we will add them, too (i.e. for Loaded the special rubber strips).
Finally we check if your setup you chose doesn't give wheelbite (deck touches wheel). Else we give you advise on how to change your setup.
You don't need this setup when you have selected a complete board. There it is already included.
Please note:in this setup are no deck, trucks, wheels or bearings included, only hardware and assembly.
Please add to your order deck, trucks, wheels and bearing of your choice for the total setup.
Domanda
(2)
Da
Karen Raffelsberger
|
2021-02-03 18:42:22
Hello,
yesterday I bought trucks but I forgot to add the hardware. Is it possible to order it anyways? (I don't need 2 trucks more, therefore I would like to order only the hardware).
Julian
Hi, Thanks for reaaching out! Please contact Info@sickboards.nl.
Da
Robin Schulenberg
|
2020-12-12 00:26:50
Hey, Does assembly include griptape ?
Martijn
Hi,

Assembly does not include a griptape. For a grip job, please add grip tape and "a grip job" to your order.

Thanks for your question!
La tua domanda è stata inviata con successo il nostro team. Grazie per la domanda!
Riepilogo
5
(1 Recensioni)
Seleziona un punteggio per filtrare le recensioni.