Maglietta gratis > € 150,-

Spedizione gratuita a partire da € 150,-

Diritto di recesso di 100 giorni

Ritiro gratuito in negozio

Spedizioni in tutto il mondo

Maglietta gratis > € 150,-
Ricevi una maglietta per il malato gratis se ordini per più di 150 euro

Spedizione gratuita a partire da € 150,-
Si ottiene la spedizione gratuita in Benelux e Germania quando si ordina per più di 100 euro , Resto d'Europa da 200,-

Diritto di recesso di 100 giorni
È possibile restituire il prodotto non utilizzato entro 100 giorni (vedi la nostra politica)
Ritiro gratuito in negozio
Potete passare dal nostro negozio per ritirare gratuitamente il vostro pacchetto (vale il viaggio)
Spedizioni in tutto il mondo
Offriamo la spedizione in tutto il mondo con UPS, ed è gratuita per ordini superiori a 300 euro.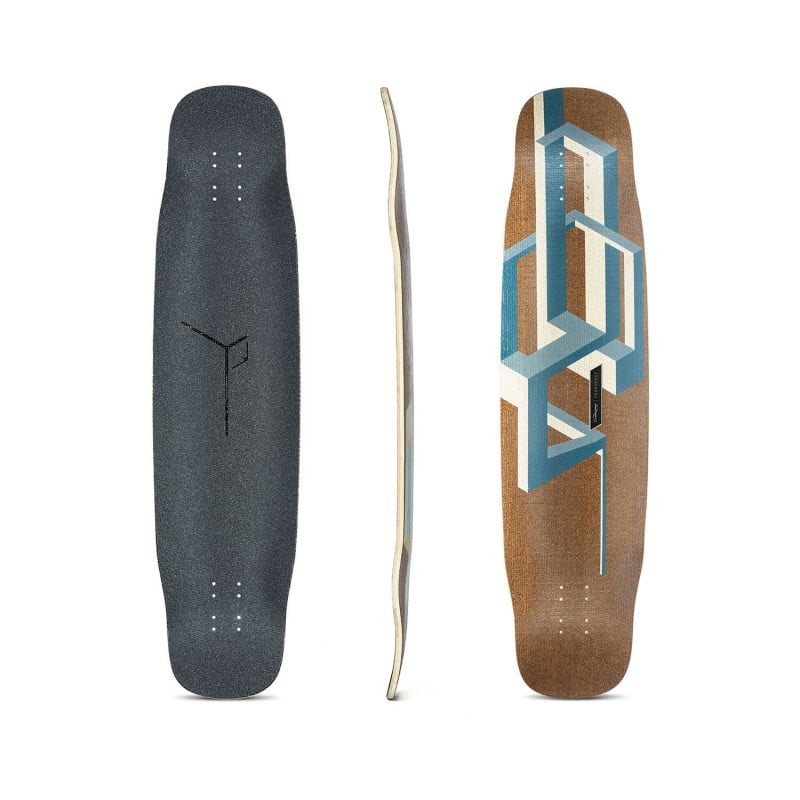  
Loaded Basalt Tesseract Longboard Deck
Out of stock
Incl. 21% VAT
Lunghezza: 99.1cm / 39"
Larghezza: 23.9cm / 9.4"

Maglietta gratis > € 150,-
Ricevi una maglietta per il malato gratis se ordini per più di 150 euro

Spedizione gratuita a partire da € 150,-
Si ottiene la spedizione gratuita in Benelux e Germania quando si ordina per più di 100 euro , Resto d'Europa da 200,-

Diritto di recesso di 100 giorni
È possibile restituire il prodotto non utilizzato entro 100 giorni (vedi la nostra politica)
Ritiro gratuito in negozio
Potete passare dal nostro negozio per ritirare gratuitamente il vostro pacchetto (vale il viaggio)
Spedizioni in tutto il mondo
Offriamo la spedizione in tutto il mondo con UPS, ed è gratuita per ordini superiori a 300 euro.
GET LIT WITH LAVA: Building on our experience manufacturing the Tarab, we've updated the Basalt Tesseract with a high-performance, eco-conscious basalt fabric construction for a lighter, damper, and more freestyle-friendly board. 4 color options to match your road rash.
Stash the quiver, clear your mind, and let the Basalt Tesseract be your versatile companion in the quest for four-wheeled illumination. The Basalt Tesseract integrates rocker, wheel well flares, W concave, and multiple wheelbase options into a lightweight package designed for hilly descents, snappy slides, lofty ollies, techy manual combos, and cross-steps galore.
Functional Design — Symmetrical shape and kicktails encourage switch riding and a multitude of tricks and slides. Multiple wheelbase options allow you to fine tune your setup based on riding style and truck geometry. Updated semi-aggressive griptape: Grippy but not evil.
Curvaceous Confidence — Rocker cradles your feet for locked-in slides. Tall, wide W concave mellows out near the trucks for comfort while providing strong lateral support for carving and sliding. Wheel well flares increase wheel clearance and create ergonomic reference points for your feet.
Specs
Length: 99.1 cm / 39"
Width: 23.9 cm / 9.4"
Wheelbase: 62.2 cm - 66 cm / 24.5"- 26".
Construction: Dual bamboo cores are sandwiched between layers of basalt fabric to create a strong and lightweight structure with the perfect balance of flex and pop for a more dynamic and forgiving ride. A bottom layer of cork provides vibration damping and helps prevent abrasive damage from spreading..
Gripped: Yes.
Domanda
(0)
Non ci sono domande dei clienti per il momento.
La tua domanda è stata inviata con successo il nostro team. Grazie per la domanda!
Riepilogo
5
(1 Recensioni)
Seleziona un punteggio per filtrare le recensioni.