Maglietta gratis > € 150,-

Parcheggio gratuito

Spedizione gratuita a partire da € 150,-

Diritto di recesso di 100 giorni

Spedizioni in tutto il mondo

Maglietta gratis > € 150,-
Ricevi una maglietta per il malato gratis se ordini per più di 150 euro

Parcheggio gratuito
Disponiamo di un parcheggio proprio davanti alla porta

Spedizione gratuita a partire da € 150,-
Si ottiene la spedizione gratuita in Benelux e Germania quando si ordina per più di 100 euro , Resto d'Europa da 200,-

Diritto di recesso di 100 giorni
È possibile restituire il prodotto non utilizzato entro 100 giorni (vedi la nostra politica)
Spedizioni in tutto il mondo
Offriamo la spedizione in tutto il mondo con UPS, ed è gratuita per ordini superiori a 300 euro.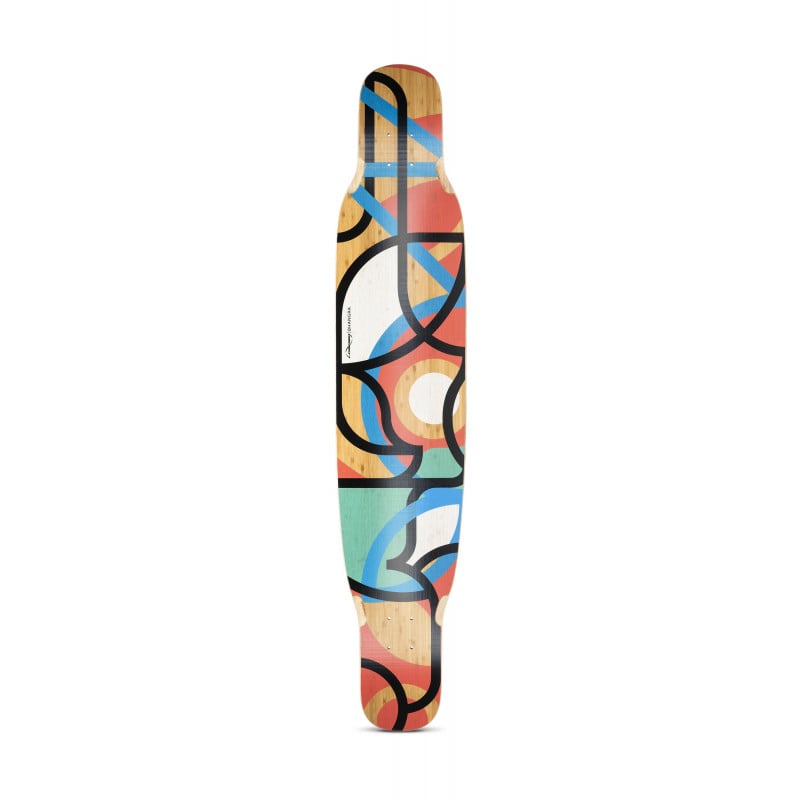  
Loaded Bhangra V2 Longboard Deck
Out of stock
Incl. 21% VAT
Lunghezza: 123.2cm / 48.5" - Larghezza: 24cm / 9.4"

Maglietta gratis > € 150,-
Ricevi una maglietta per il malato gratis se ordini per più di 150 euro

Parcheggio gratuito
Disponiamo di un parcheggio proprio davanti alla porta

Spedizione gratuita a partire da € 150,-
Si ottiene la spedizione gratuita in Benelux e Germania quando si ordina per più di 100 euro , Resto d'Europa da 200,-

Diritto di recesso di 100 giorni
È possibile restituire il prodotto non utilizzato entro 100 giorni (vedi la nostra politica)
Spedizioni in tutto il mondo
Offriamo la spedizione in tutto il mondo con UPS, ed è gratuita per ordini superiori a 300 euro.
Bhangra V2

YOUR MOBILE DANCE FLOOR, NEWLY RENOVATED.

Designed for the fanciest of footwork, the Bhangra offers a spacious platform with plenty of room for all your dance moves yet is nimble enough for advanced freestyle tricks and steezy slides. Ideal for dancing/freestyle gurus and surf-style aficionados looking for a smooth and graceful riding experience.
The NEW Bhangra V2 features updated basalt and bio-epoxy construction for lighter weight, higher strength, a new damp flex, and continued eco-friendliness. Bio-based Super Sap epoxy uses tree sap to replace much of its petroleum content, and basalt fabric requires less processing than fiberglass because it was already processed by a volcano.
LONGBOARD SPECS
Length: 48.5" / 123 cm
Width: 9.5" / 24 cm
Wheelbase (inner hole): 32.75" / 83.19 cm
Profile: rocker
Weight (deck only): 5.1-5.5 lbs / 2.3-2.5 kg
FLEX RECOMMENDATIONS
Flex Flex 2: 90-190+ lbs / 40-86+ kg
Domanda
(0)
Non ci sono domande dei clienti per il momento.
La tua domanda è stata inviata con successo il nostro team. Grazie per la domanda!
Riepilogo
0
(0 Recensioni)
Seleziona un punteggio per filtrare le recensioni.