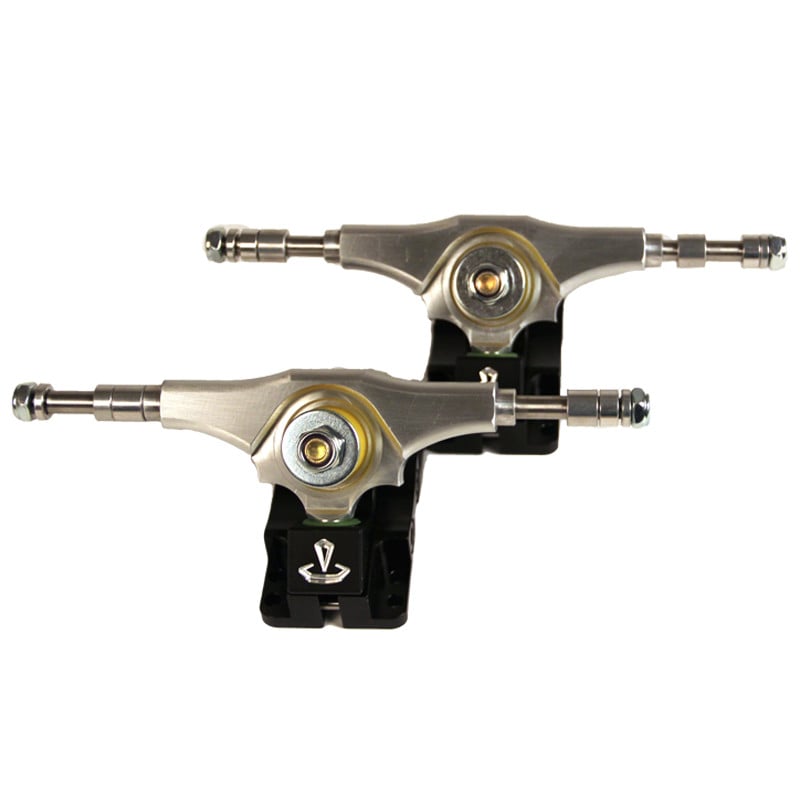  
Don't Trip Boomer Achsen (Set Of 2)
Designed to be the freeride Truck
The Don't Trip Boomers is designed to be the Freeride truck. It has 3mm of rake and flip-able hangers to change that to positive or negative rake. The hangers have rounded bushing seats on each side which allow the bushings to compress naturally while turning. The truck uses tall bushings and comes stock with Riptide APS Tall Barrels in 90a. Both the baseplates, as well as the hangers are adjustable so you can select your preferred hanger width and baseplate angles. 
Available in two ranges of hanger widths.  
Specs
Adjustable Hangers in 125-131-137-143mm / 157-163-169-175mm
Adjustable 30-55 deg Bases
Rake 3mm flip-able Hangers
Double Bushing seat for Tall Barrels or Tall Chubbies
Price is for a set of 2 Trucks
Frage
(1)
Aus
Frank Le guellanff
|
2022-03-19 19:47:39
Hello, I would like to know if the color is like as shown on picture.
Thanks.
Frank 804738
Danny
Hi Frank, the trucks have a raw silver finish on the hanger with black adonized baseplates
Ihre Frage wurde erfolgreich unser Team geschickt. Vielen Dank für Frage!
Zusammenfassung
0
(0 Bewertungen)
Wählen Sie eine Zeile aus, um Bewertungen zu filtern.