Maglietta gratis > € 150,-

Spedizione gratuita a partire da € 200,-

Diritto di recesso di 100 giorni

Spedizioni in tutto il mondo

Maglietta gratis > € 150,-
Ricevi una maglietta per il malato gratis se ordini per più di 150 euro

Spedizione gratuita a partire da € 200,-
Si ottiene la spedizione gratuita in Benelux e Germania quando si ordina per più di 100 euro , Resto d'Europa da 200,-

Diritto di recesso di 100 giorni
È possibile restituire il prodotto non utilizzato entro 100 giorni (vedi la nostra politica)
Spedizioni in tutto il mondo
Offriamo la spedizione in tutto il mondo con UPS, ed è gratuita per ordini superiori a 300 euro.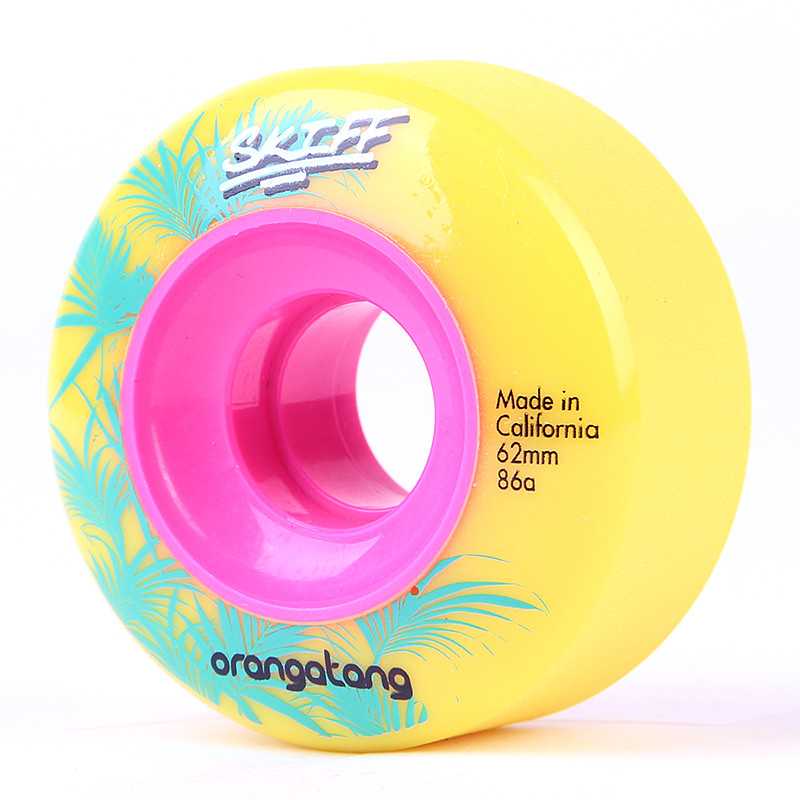  
Orangatang Skiff 62mm Ruote
Orangatang Skiff 62mm - 80a, 83a, 86a

Maglietta gratis > € 150,-
Ricevi una maglietta per il malato gratis se ordini per più di 150 euro

Spedizione gratuita a partire da € 200,-
Si ottiene la spedizione gratuita in Benelux e Germania quando si ordina per più di 100 euro , Resto d'Europa da 200,-

Diritto di recesso di 100 giorni
È possibile restituire il prodotto non utilizzato entro 100 giorni (vedi la nostra politica)
Spedizioni in tutto il mondo
Offriamo la spedizione in tutto il mondo con UPS, ed è gratuita per ordini superiori a 300 euro.
Our Description:
The Skiff is the new favorite of the Orangatang / Loaded family. This tiny wheel packs a punch and is perfect for around town on any board, even low street and bowl boards. At 62mm it's big enough to shred down hills for mild freeride, but the 80a won't last too long for that. This wheel is one of the best small freeride wheels out there!



I don't always ride small wheels. But when I do… they ride me.
With a versatile stature, impeccable style, and a ready-to-rock attitude, the Skiff is the most interesting wheel in the world. Designed for all-terrain use, it is a utilitarian alternative to a traditional street wheel for riding faster, steeper, rougher, and longer.
The pink AF core increases speed to blinding proportions and is specifically designed to annoy friends, family, and passersby. The 35x38mm core with a deep valley-shaped cross section keeps the rounded lips firmly supported, promoting smooth, consistent slides and even wear. The stone-ground contact patch ensures predictable and buttery slides right out of the box.
The Skiff is poured in our tried-and-true Happy Thane for a balance of high speed, comfortable roll, reliable traction, and clean slides. No flamingos were harmed in the making of this wheel.
Not for use in elevators.
Specs
Durometer: 80a (orange) 83a (purple) 86a (yellow)
Diameter: 62 mm
Width: 35 mm
Contactpatch: 25 mm
Centerset