Maglietta gratis > € 150,-

Spedizione gratuita a partire da € 200,-

Diritto di recesso di 100 giorni

Spedizioni in tutto il mondo

Maglietta gratis > € 150,-
Ricevi una maglietta per il malato gratis se ordini per più di 150 euro

Spedizione gratuita a partire da € 200,-
Si ottiene la spedizione gratuita in Benelux e Germania quando si ordina per più di 100 euro , Resto d'Europa da 200,-

Diritto di recesso di 100 giorni
È possibile restituire il prodotto non utilizzato entro 100 giorni (vedi la nostra politica)
Spedizioni in tutto il mondo
Offriamo la spedizione in tutto il mondo con UPS, ed è gratuita per ordini superiori a 300 euro.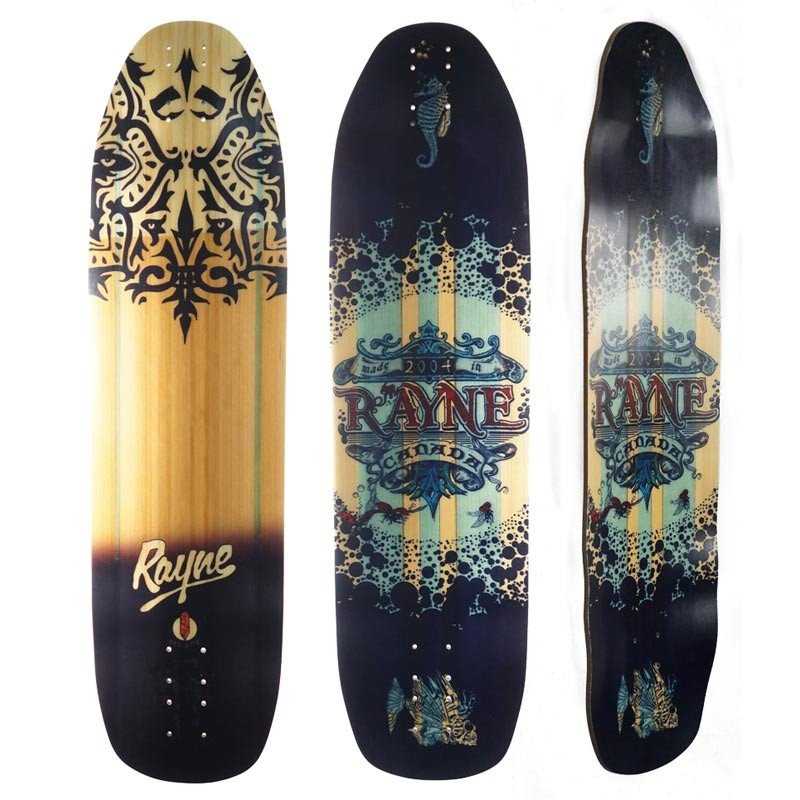  
Rayne Deelite Fortune V3 - Longboard Deck
Lunghezza: 36" / 91.4cm
Larghezza: 9.75" / 24.8cm

Maglietta gratis > € 150,-
Ricevi una maglietta per il malato gratis se ordini per più di 150 euro

Spedizione gratuita a partire da € 200,-
Si ottiene la spedizione gratuita in Benelux e Germania quando si ordina per più di 100 euro , Resto d'Europa da 200,-

Diritto di recesso di 100 giorni
È possibile restituire il prodotto non utilizzato entro 100 giorni (vedi la nostra politica)
Spedizioni in tutto il mondo
Offriamo la spedizione in tutto il mondo con UPS, ed è gratuita per ordini superiori a 300 euro.
Combining a bit of slalom, pool and downhill, the Fortune has radial concave, a small spoon tail and an upturned nose added to the directional Vandal shape so Patrick can ollie, manual and generally ride one board for whatever goofing he gets up to. This deck is totally unique because of what we call 4D Cups. These bacon-like waves of concave grip your feet like nothing else! If you've watched Patrick creating 3D concave with Vicious Grip, you'll know where it all came from. These supportive waves grab your feet and hold them in place allowing you to place your feet either in the 4-D Cups (perpendicular to the board direction) while freeriding, or diagonally across the 4D Cups while downhilling. The radial concave on the Fortune is our most aggressive concave in the Rayne longboards lineup and has almost no flat bottom. No matter where you stand on this board you'll feel the concave and it will provide maximum leverage for grip and cornering.Finally, the Fortune features Rayne's Fat Bottom Core construction that reduces weight by 15%, keeps the board strong and creates 1/4? wheel wells along the whole board length making CNC'ed wheel wells obsolete.
Specs
Length: 91.4 cm / 36"
Width: 24.8 cm / 9.75"
Wheelbase: 63.5 cm - 69.2 cm / 25" - 27.3".
Construction: V-Lam bamboo and Fiberglass.
Gripped: No.