Maglietta gratis > € 150,-

Spedizione gratuita a partire da € 200,-

Diritto di recesso di 100 giorni

Spedizioni in tutto il mondo

Maglietta gratis > € 150,-
Ricevi una maglietta per il malato gratis se ordini per più di 150 euro

Spedizione gratuita a partire da € 200,-
Si ottiene la spedizione gratuita in Benelux e Germania quando si ordina per più di 100 euro , Resto d'Europa da 200,-

Diritto di recesso di 100 giorni
È possibile restituire il prodotto non utilizzato entro 100 giorni (vedi la nostra politica)
Spedizioni in tutto il mondo
Offriamo la spedizione in tutto il mondo con UPS, ed è gratuita per ordini superiori a 300 euro.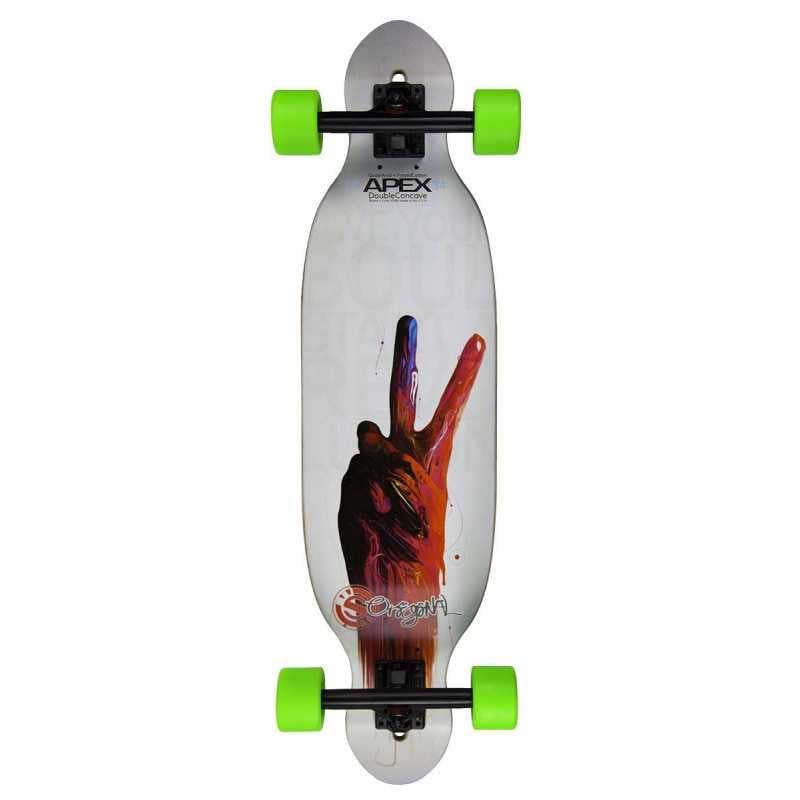  
Original Apex 34 Double Concave - Longboard Complete
Trucks: Caliber 50 | Cuscinetti: Sick ABEC 7 | Ruote: These ATF 327 66mm | Comes with laser-cut griptape | 
Trucks and Ruote different than shown in image. Does not include PK Noseguards! 

Maglietta gratis > € 150,-
Ricevi una maglietta per il malato gratis se ordini per più di 150 euro

Spedizione gratuita a partire da € 200,-
Si ottiene la spedizione gratuita in Benelux e Germania quando si ordina per più di 100 euro , Resto d'Europa da 200,-

Diritto di recesso di 100 giorni
È possibile restituire il prodotto non utilizzato entro 100 giorni (vedi la nostra politica)
Spedizioni in tutto il mondo
Offriamo la spedizione in tutto il mondo con UPS, ed è gratuita per ordini superiori a 300 euro.
Our Description:
The Original Apex Double Concave is a potent all around longboard with a light and snappy flex. This deck is smaller, agile, has a usable nose and tail to get your freestyle on and a small drop to lock you in while you slide or freeride. This deck can do it all. This is the smaller 34" version that is even more snappy and agile than the 37!

The complete comes with Caliber 50? trucks for quick and easy steering and These ATF 327 66mm wheels for super fast roll speed. 
Specs:
Length: 88cm / 34.75"
Width: 23cm / 9"
Wheelbase: 54.5-61cm / 21.5-24"
When big freestyle freeride performance is a must our pro riders turn to the Apex 40 DoubleConcave, but what happens when a smaller rider demands the same? The Apex 34 DoubleConcave answers that call, delivering true big longboard performance in a super tight package, perfectly sized for smaller / lighter performance riders. Step up your game all-around, from freestyle tricks to technical softwheel sliding, the Apex 34 DoubleConcave delivers the performance small riders need to make it to the pros, though it may not help get you to the NBA.
Noteworthy Performance, Unique Durability
The Apex 34 DC shares all of the key performance attributes that the Apex 40 DoubleConcave introduced late last year. From the 0.25 inch micro drop to the 1.5 inch kicks, to the quad-axial fiberglass and full multi-layer carbon reinforcement bar. The Apex 34 packs all the punch of the larger Apex 40, in a scaled down package. It also accepts the same PK noseguards which have provided to be one of the biggest jumps in freestyle performance we have seen in the last 10 years. Get your hands on an Apex 34 and let the new PK's take your freestyle abilities up a notch.
Potrebbe anche piacerti
Domanda
(0)
Non ci sono domande dei clienti per il momento.
La tua domanda è stata inviata con successo il nostro team. Grazie per la domanda!