Maglietta gratis > € 150,-

Parcheggio gratuito

Spedizione gratuita a partire da € 150,-

Diritto di recesso di 100 giorni

Spedizioni in tutto il mondo

Maglietta gratis > € 150,-
Ricevi una maglietta per il malato gratis se ordini per più di 150 euro

Parcheggio gratuito
Disponiamo di un parcheggio proprio davanti alla porta

Spedizione gratuita a partire da € 150,-
Si ottiene la spedizione gratuita in Benelux e Germania quando si ordina per più di 100 euro , Resto d'Europa da 200,-

Diritto di recesso di 100 giorni
È possibile restituire il prodotto non utilizzato entro 100 giorni (vedi la nostra politica)
Spedizioni in tutto il mondo
Offriamo la spedizione in tutto il mondo con UPS, ed è gratuita per ordini superiori a 300 euro.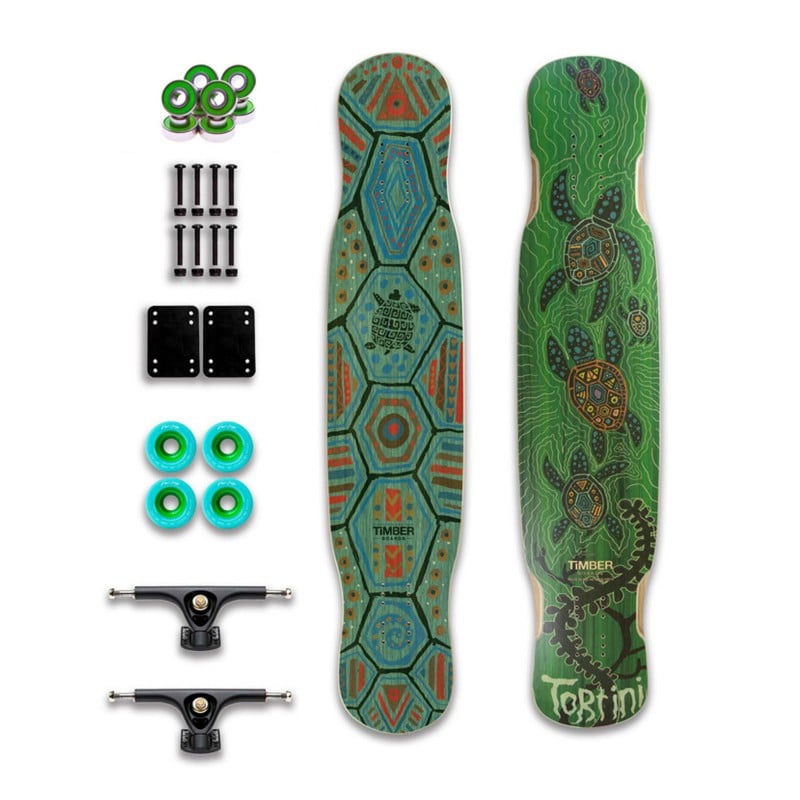  
Timber Tortini 43" Longboard Complete
Lunghezza: 110cm / 43.31"
Larghezza: 23cm / 9.06"

Maglietta gratis > € 150,-
Ricevi una maglietta per il malato gratis se ordini per più di 150 euro

Parcheggio gratuito
Disponiamo di un parcheggio proprio davanti alla porta

Spedizione gratuita a partire da € 150,-
Si ottiene la spedizione gratuita in Benelux e Germania quando si ordina per più di 100 euro , Resto d'Europa da 200,-

Diritto di recesso di 100 giorni
È possibile restituire il prodotto non utilizzato entro 100 giorni (vedi la nostra politica)
Spedizioni in tutto il mondo
Offriamo la spedizione in tutto il mondo con UPS, ed è gratuita per ordini superiori a 300 euro.
Complete Set-Up
Morgan Pro 65mm for the smooth ride.
Paris V3 180 Trucks.
Timeship Bearings
We'll throw in some shockpads, nuts and bolts

The Tortini might just be the greatest thing ever, in all eleven dimensions. But we at Timber would say that about all the boards that we make. Right? Right. Try one for yourself someday and experience the agilty, strength and versatility that makes the Tortini the next addition to freestyle royalty.
Specs
Length: 110 cm / 43.31"
Width: 23 cm / 9.06"
Wheelbase: 63.9 cm - 70 cm / 25.2"- 27.6".
Construction: Beneath the whole top layer we've put carbon fiber. Next to that it has extra carbon reinforced kicks, portuding over the bolts. This ensures a solid pop. And it will stay solid. Furthermore, because we have carbon in this one, we can use a lighter glasstype on the bottom. Making this board feel like Tortuga, but a lighter board. Also, it's shorter. Which will affect the flex. A carefully tested and chosen combination of glass and carbon weaves makes this board very balanced out. Tough, light, but also available in three different flex types thanks to the lay-up. If you're used to the Tortuga, remember: this one is a bit stiffer..
Gripped: No.
Domanda
(0)
Non ci sono domande dei clienti per il momento.
La tua domanda è stata inviata con successo il nostro team. Grazie per la domanda!
Riepilogo
0
(0 Recensioni)
Seleziona un punteggio per filtrare le recensioni.