 
Powell-Peralta Snakes 66mm Roues
Specs: 
Dureté: 75a
Diame;tre: 66 mm
Largeur: 47 mm
Contact patch: 38 mm
Core Position: Centerset
The new Soft Slide Formula (SSF) will be formulated in multiple hardnesses, is faster rolling, and will outlast anything currently on the market by many times. Super fast, incredibly durable, and they slide. SSF is a new paradigm, opening up even more of the concrete and asphalt cityscapes, roads, and hills to skating.
The Snakes are the softest of the SSF. They are built for high speed control on any terrain. Great for downhill and free-ride riding!
Specs: 
Durometer: 75a
Diameter: 66 mm
Width: 47 mm
Contact patch: 38 mm
Core Position: Centerset
Question
(0)
Pas de questions pour le moment.
Votre question a été envoyée avec succès notre équipe. Merci pour la question!
Résumé
0
star_border star_border star_border star_border star_border
(0 Avis des clients)
Sélectionnez une ligne ci-dessous pour filtrer les avis.
5

(0)

4

(0)

3

(0)

2

(0)

1

(0)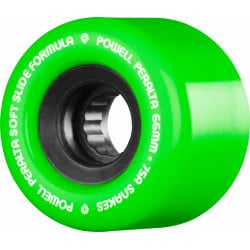 Powell-Peralta Snakes 66mm Roues
* Champs requis
Donnez votre avis
En soumettant cet avis, vous acceptez qu'il soit publié et accessible au public.
Color

Green

Diamètre

66mm

Dureté

75A

Core posittion

Center Set

Wheel usage

Slide Wheels
Color

Red

Diamètre

66mm

Dureté

75A

Core posittion

Center Set

Wheel usage

Slide Wheels
Color

White

Diamètre

66mm

Dureté

75A

Core posittion

Center Set

Wheel usage

Slide Wheels
Color

Black

Diamètre

66mm

Dureté

75A

Core posittion

Center Set

Wheel usage

Slide Wheels