Camiseta gratis desde 150,-

Envío gratuito a ES desde 200,-

Política de devolución de 100 días

El envío a todo el mundo

Camiseta gratis desde 150,-
Consigue una camiseta de Sickboards gratis si pides más de 150 euros

Envío gratuito a ES desde 200,-
El envío es gratuito para el Benelux y Alemania cuando se hace un pedido de más de 100 euros, el resto de Europa a partir de 200,-

Política de devolución de 100 días
Puede devolver el producto sin usar en un plazo de 100 días (vea nuestra política)
El envío a todo el mundo
Ofrecemos envíos a todo el mundo usando UPS, y es gratis para pedidos de más de 300 euros.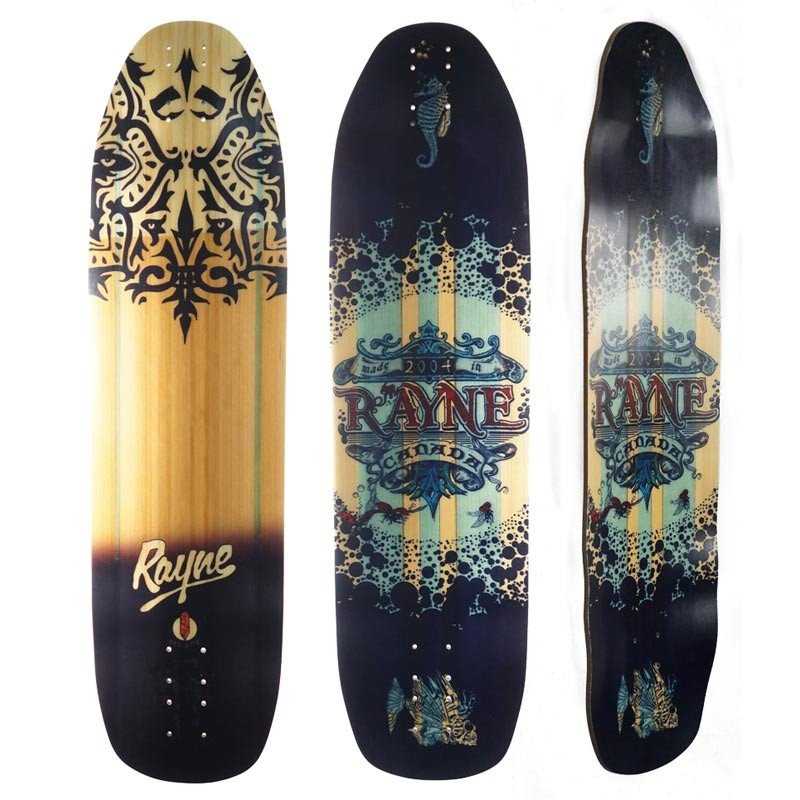  
Rayne Deelite Fortune V3 - Longboard Deck
Longitud: 36" / 91.4cm
Anchura: 9.75" / 24.8cm

Camiseta gratis desde 150,-
Consigue una camiseta de Sickboards gratis si pides más de 150 euros

Envío gratuito a ES desde 200,-
El envío es gratuito para el Benelux y Alemania cuando se hace un pedido de más de 100 euros, el resto de Europa a partir de 200,-

Política de devolución de 100 días
Puede devolver el producto sin usar en un plazo de 100 días (vea nuestra política)
El envío a todo el mundo
Ofrecemos envíos a todo el mundo usando UPS, y es gratis para pedidos de más de 300 euros.
Combining a bit of slalom, pool and downhill, the Fortune has radial concave, a small spoon tail and an upturned nose added to the directional Vandal shape so Patrick can ollie, manual and generally ride one board for whatever goofing he gets up to. This deck is totally unique because of what we call 4D Cups. These bacon-like waves of concave grip your feet like nothing else! If you've watched Patrick creating 3D concave with Vicious Grip, you'll know where it all came from. These supportive waves grab your feet and hold them in place allowing you to place your feet either in the 4-D Cups (perpendicular to the board direction) while freeriding, or diagonally across the 4D Cups while downhilling. The radial concave on the Fortune is our most aggressive concave in the Rayne longboards lineup and has almost no flat bottom. No matter where you stand on this board you'll feel the concave and it will provide maximum leverage for grip and cornering.Finally, the Fortune features Rayne's Fat Bottom Core construction that reduces weight by 15%, keeps the board strong and creates 1/4? wheel wells along the whole board length making CNC'ed wheel wells obsolete.
Specs
Length: 91.4 cm / 36"
Width: 24.8 cm / 9.75"
Wheelbase: 63.5 cm - 69.2 cm / 25" - 27.3".
Construction: V-Lam bamboo and Fiberglass.
Gripped: No.
También podría interesarle
Pregunta
(0)
No hay preguntas de los clientes por ahora.
Su pregunta se ha enviado con éxito a nuestro equipo. Gracias por la pregunta!