Camiseta gratis desde 150,-

Envío gratuito a ES desde 200,-

Política de devolución de 100 días

El envío a todo el mundo

Camiseta gratis desde 150,-
Consigue una camiseta de Sickboards gratis si pides más de 150 euros

Envío gratuito a ES desde 200,-
El envío es gratuito para el Benelux y Alemania cuando se hace un pedido de más de 100 euros, el resto de Europa a partir de 200,-

Política de devolución de 100 días
Puede devolver el producto sin usar en un plazo de 100 días (vea nuestra política)
El envío a todo el mundo
Ofrecemos envíos a todo el mundo usando UPS, y es gratis para pedidos de más de 300 euros.
 
Landyachtz Fiberglass Totem Buffalo - Complete
A surf inspired longboard. A classic Pin Tail design to get you cruising and carving down longer distances in great style. Comes set up completely with Ruedas and Ejes to get you rolling right after unpacking.
Specs:
Deck: Pin tail
Ejes: Bear Grizzly 852 180mm
Ruedas: 69mm Hawgs 78A
Rodamientos: Bear Spaceballs Abec 7.

Camiseta gratis desde 150,-
Consigue una camiseta de Sickboards gratis si pides más de 150 euros

Envío gratuito a ES desde 200,-
El envío es gratuito para el Benelux y Alemania cuando se hace un pedido de más de 100 euros, el resto de Europa a partir de 200,-

Política de devolución de 100 días
Puede devolver el producto sin usar en un plazo de 100 días (vea nuestra política)
El envío a todo el mundo
Ofrecemos envíos a todo el mundo usando UPS, y es gratis para pedidos de más de 300 euros.
The Totem is Landyachtz' medium sized pin tail is a  carving, cruising, and commuting longboard. The set-up is an excellent choice for those getting into longboards and wanting to carve it up. This deck has a lightweight, thin, and flexible construction that will help you improve your carving ability. It's made out of bamboo and fiberglass, has a mild concave and a medium flex.
This board comes set-up with Bear 852s for quick steering and snappy carves and 69mm Hawgs for fast roll speed, and high grip. 
Landyachtz Freedom Series Fiberglass Buffalo
A different feel than regular bamboo construction, the Fiberglass Totem is thinner, snappier, and more responsive. Enhance your carving experience!
Specs
Length: 104.1cm / 41"
Width: 25.1cm / 9.9"
Wheelbase: 70.5cm / 27.75".
Construction: 4 plies of bamboo & 1 ply fiberglass.
Griptape Included: Yes; clear spray on grip.
Setup
Deck: Pin tail
Trucks: Bear 852 180mm.
Wheels: 69mm Hawgs 78A.
Bearings:Bear Spaceballs Abec 7.
También podría interesarle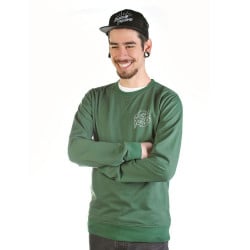 Pregunta
(0)
No hay preguntas de los clientes por ahora.
Su pregunta se ha enviado con éxito a nuestro equipo. Gracias por la pregunta!