Camiseta gratis desde 150,-

Envío gratuito a ES desde 200,-

Política de devolución de 100 días

El envío a todo el mundo

Camiseta gratis desde 150,-
Consigue una camiseta de Sickboards gratis si pides más de 150 euros

Envío gratuito a ES desde 200,-
El envío es gratuito para el Benelux y Alemania cuando se hace un pedido de más de 100 euros, el resto de Europa a partir de 200,-

Política de devolución de 100 días
Puede devolver el producto sin usar en un plazo de 100 días (vea nuestra política)
El envío a todo el mundo
Ofrecemos envíos a todo el mundo usando UPS, y es gratis para pedidos de más de 300 euros.
 
Orangatang Caguama 85mm Ruedas (set of 2)
Designed for speed, grip,and smooth riding. Works great on LDP setups, and will great on your Boosted board as well.
Diametro: 85mm
Dureza: 77A (Blue) / 80A (Orange) / 83A (Purple)
Anchura: 58.5mm
Contact path: 56mm
Core position: Offset
Usage: LDP, E-skate, Cruising
Edge shape: Square
Sold as a set of 2

Camiseta gratis desde 150,-
Consigue una camiseta de Sickboards gratis si pides más de 150 euros

Envío gratuito a ES desde 200,-
El envío es gratuito para el Benelux y Alemania cuando se hace un pedido de más de 100 euros, el resto de Europa a partir de 200,-

Política de devolución de 100 días
Puede devolver el producto sin usar en un plazo de 100 días (vea nuestra política)
El envío a todo el mundo
Ofrecemos envíos a todo el mundo usando UPS, y es gratis para pedidos de más de 300 euros.
Who said size doesn't matter?
These wheels are designed for speed, grip, and an ultra-smooth ride. Additionally, it's actually designed for the rigors of e-boarding (It's the same core as the Kegel so it'll fit many of the belt drive e-board systems out there).
85mm Tall
58.5mm Wide
56mm Contact Patch
Orangatang proprietary Happy Urethane formula
Fancy shmancy 3 dimensional graphic to break even more hearts. Orangatang believes it probably provides slightly better strength to weight
Fits on many Loadedboards. See below.
Durometers: 77a (Blue), 80a (Orange), 83a (Purple)
Recommended Loaded Board Setups For The Caguama:
Icarus: Recommended with nipple bushings and cupped washers
Dervish Sama: Recommended with double barrel bushings (standard Nipple setup)
Vanguard: Works with stock bushings
Fattail: Works with stock bushings (and 150mm trucks)
Tesseracts (Basalt, Cantellated, Truncated) and Blood Slayer: Generally not encouraged, but will work with a few risers for specific riding styles
Overland, Poke, Kanthaka: Works with multiple risers. We particularly recommend the Carver CX4s with 3/8" risers
Tarab and Bhangra: Not recommended as those are more freestyle/dance oriented. But then again, who are we to say?
También podría interesarle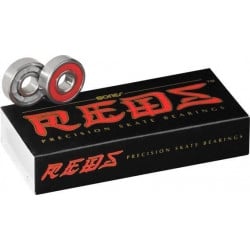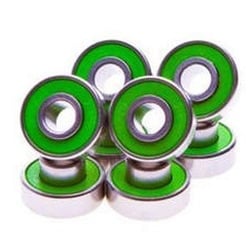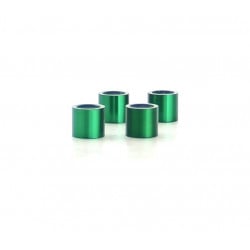 Questions
(0)
No customer questions for the moment.
Your Question has been successfully sent our team. Thanks for question!
Valoraciones
0
(0 Comentarios)
Seleccionar filtro