.

SICKSHOP

Monday: 11:00-17:30
Tuesday: 11:00-17:30
Wednesday: 11:00-17:30
Thursday: 11:00-17:30
Friday: 11:00-17:30
Saturday: 12:00-17:00
Sunday: Closed

Looking for new employees for the weekend so we can open more hours! Please email to [email protected] if you are interested to join the Sick Crew
 
Vans Skate Grosso Mid Shoes
The Vans Skate Grosso Mid Shoes are a new iconic style, especially designed for skateboarding, inspired by the famous Jeff Grosso. The shoes feature new gum rubber for more durability, Popcush insole and Duracap reinforcement to improve the daily use of skateboarding.
Material: Leather, Textile
Customers who bought this product also bought:
---
Questions
(0)
No customer questions for the moment.
Your Question has been successfully sent our team. Thanks for question!
Summary
0
star_border star_border star_border star_border star_border
(0 Reviews)
Select a row below to filter reviews.
5

(0)

4

(0)

3

(0)

2

(0)

1

(0)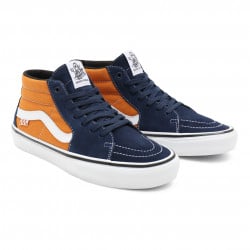 Vans Skate Grosso Mid Shoes
* Required fields
Write your review
By submitting this review, you agree that it be published and publicly available.
Color

Black

For

Men

Vans

Sk8-Mid

Vans Collection

Pro Skate
Color

Black

For

Men

Vans

Sk8-Mid

Vans Collection

Pro Skate
Color

Black

For

Men

Vans

Sk8-Mid

Vans Collection

Pro Skate
Color

Black

For

Men

Vans

Sk8-Mid

Vans Collection

Pro Skate
Color

Black

For

Men

Vans

Sk8-Mid

Vans Collection

Pro Skate
Color

Black

For

Men

Vans

Sk8-Mid

Vans Collection

Pro Skate
Color

Black

For

Men

Vans

Sk8-Mid

Vans Collection

Pro Skate
Color

Blue, Orange

For

Men, Women

Vans

Sk8-Mid

Vans Collection

Pro Skate
Color

Blue, Orange

For

Men, Men, Women

Vans

Sk8-Mid

Vans Collection

Pro Skate
Color

Blue, Orange

For

Men

Vans

Sk8-Mid

Vans Collection

Pro Skate
Color

Blue, Orange

For

Men

Vans

Sk8-Mid

Vans Collection

Pro Skate
Color

Blue, Orange

For

Men, Women

Vans

Sk8-Mid

Vans Collection

Pro Skate
Color

Blue, Orange

For

Men

Vans

Sk8-Mid

Vans Collection

Pro Skate
Color

Blue, Orange

For

Men, Women

Vans

Sk8-Mid

Vans Collection

Pro Skate