Free shirt from € 150,-

Free Shipping starts at € 100,- (NL/BE/D)

100-day return policy

Worldwide shipping

Free shirt from € 150,-
Get a Free Sickboards T-Shirt if you order for more 150 euro

Free Shipping starts at € 100,- (NL/BE/D)
You get free shipping to Benelux and Germany when you order for more than 100 euro

100-day return policy
You can return your unused product within 100 days (see our policy)
Worldwide shipping
We offer world wide shipping using UPS, and it is free for orders over 300 euro.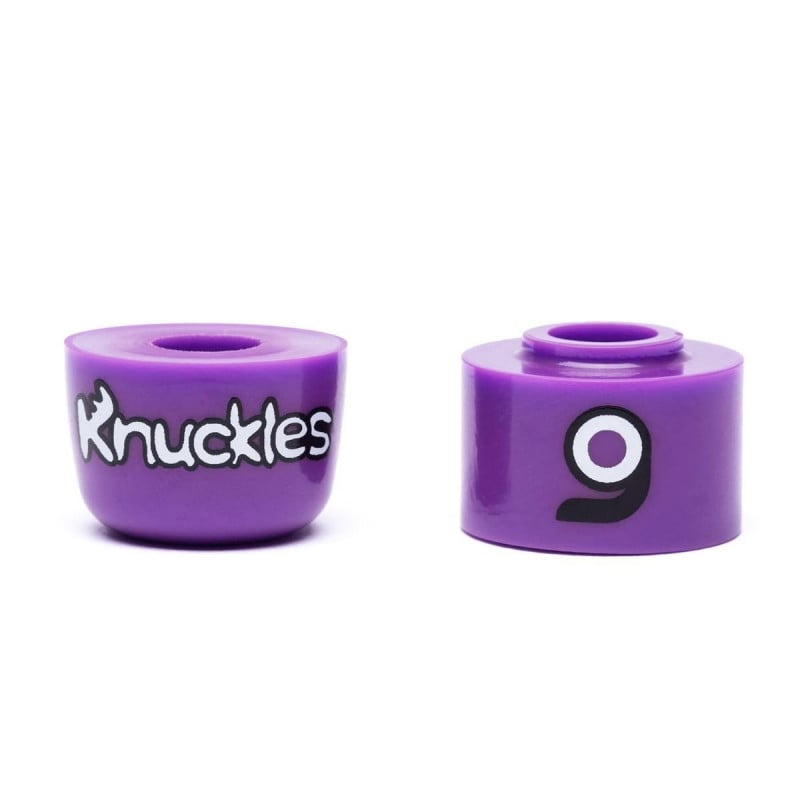  
Orangatang Bushings - Knuckles

Free shirt from € 150,-
Get a Free Sickboards T-Shirt if you order for more 150 euro

Free Shipping starts at € 100,- (NL/BE/D)
You get free shipping to Benelux and Germany when you order for more than 100 euro

100-day return policy
You can return your unused product within 100 days (see our policy)
Worldwide shipping
We offer world wide shipping using UPS, and it is free for orders over 300 euro.
Soft (orange): 80-180 lbs / 35-85 kg
Medium (purple): 160-230 lbs / 70-105 kg
JUICIER BOUNCE, TIGHTER PACKAGE.
Crafted for quick turning response and smooth edge-to-edge transitions, the new Orangatang Knuckles are the ultimate high-energy bushing upgrade for carving, pumping, dancing, and freestyle longboarding.
Available in two duros: soft (orange, 87a) and medium (medium, 90a). Each pack contains two insert barrel bushings, two gumdrop bushings, two large cup washers, and two small cup washers.
The insert barrel features a small "step" to fill the gap between the kingpin and the hole of the hanger, reducing play in the assembly for a more precise response.
The gumdrop is a smooth and subtle blend between a barrel and the more traditional cone shape, providing enhanced agility. The rounded edge allows for ultra-smooth turn initiation and improved interface with the washers.
Knuckles are sized for compatibility with most trucks and feature precise tolerances for a snug fit on the kingpin. Poured in the same extremely high-rebound Randy Thane formula as the Orangatang Nipples, these two bushing options offer distinct performance characteristics.
Nipples are a great choice for riders seeking maximum rebound for pumping and carving, lively yet supportive turning, and reduced wheelbite. The wide (1" diameter) double-barrel design offers a highly defined center point with immediate resistance to turn that increases progressively with lean angle.
In contrast, Knuckles are well suited for riders seeking quicker edge-to-edge response and deeper carving capabilities. The narrower diameter (0.95") and combination of shapes provide a blend between a stable base (barrel) and a more free-turning top (gumdrop). The result is quicker and easier turn initiation with less resistance and a greater ultimate lean angle.