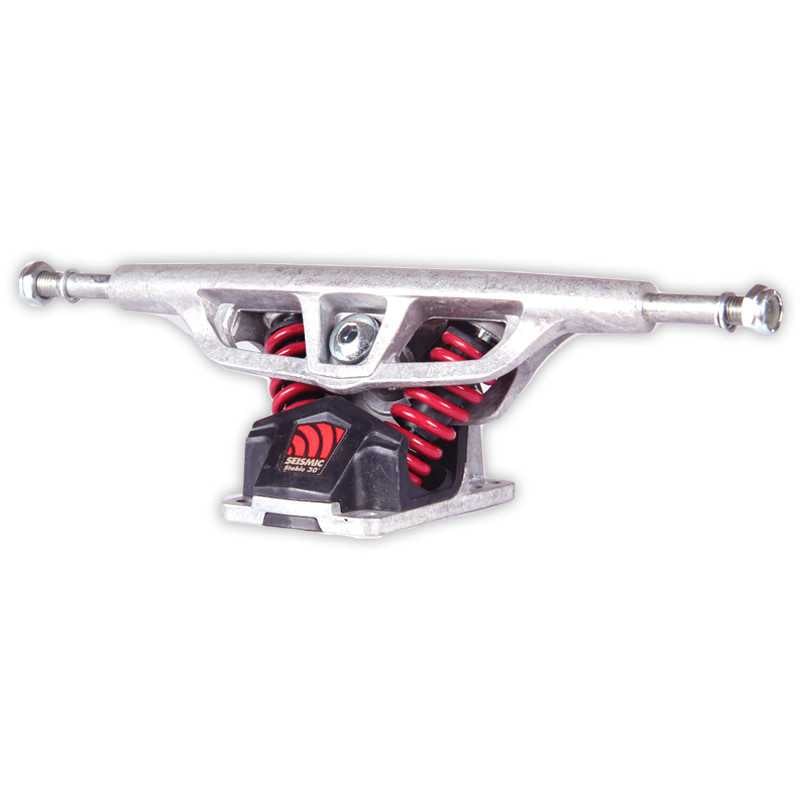  
Seismic G5 180mm 30 degree Solid Axle Achse
The Seismic Truck uses an entirely different idea to get return to centre: Springs! By using springs the Truck has a phenomenal amount of rebound and that means great for carving and pumping. This 180mm version is a more standard longboard size.
Suited for size decks: 24cm / 9.5" and up
Hanger size: 180mm
Quantity: 1
These are the flagship trucks from Seismic using springs instead of bushings for, according to Seismic more energy return, precision and better steering control. Used mainly as a rear truck in (long distance) pumping these trucks give a unique feeling when carving. On this model Seismic did a lot of weight reduction in comparison to their previous truck. This 30 degrees baseplate-angle offers stability and is available in with different spring hardnesses. 
Green: Medium 
Red: Light 
Purple: Heavy 
Dark Blue: Extra-Heavy
Note: The G5 trucks are better not be mounted on shockpads since these can amplify stresses on the baseplate and the trucks can't be mounted as dropthrough trucks and they recommend not to mount them topmount on a dropthrough deck.
Frage
(0)
Keine Fragen von Kunden für den Moment.
Ihre Frage wurde erfolgreich unser Team geschickt. Vielen Dank für Frage!
Zusammenfassung
3
(1 Bewertungen)
Wählen Sie eine Zeile aus, um Bewertungen zu filtern.